Our mission is to exceed expectations every day! Whether we are interacting with a new customer, a longtime friend, or another member of our team, we will be impeccable in our words and deeds. Honesty, respect, integrity, and kindness are the benchmarks by which we measure our effectiveness in all areas of our business.
We have made Fayetteville, NC our home for over 70 years and are proud to be its premier family owned and operated Lincoln Dealership. We strive to treat everyone who walks through our doors as a member of our family and believe that this mentality is what sets us apart.
You could choose to shop for a car anywhere, but our customer focused business, guaranteed quality, and local roots are why you should choose us!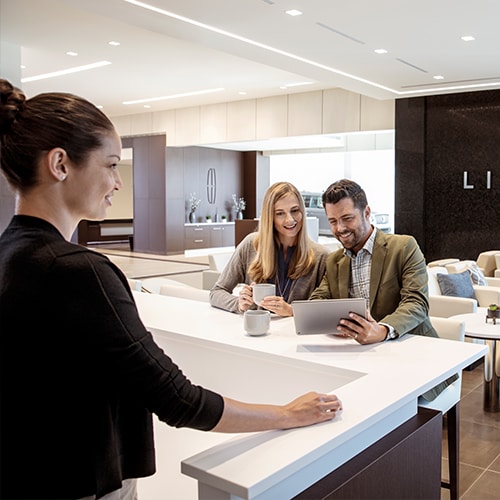 Customer Focused
We know car buying can be a stressful process, but it doesn't have to be! It all depends on the car dealership you choose and their customer service philosophies. At LaFayette® Lincoln, we offer a no pressure philosophy. Just straight answers from a dealer who will show you respect and give you a great price up front. We always treat our customers the way we would want to be treated and it really shows!
By shopping with LaFayette® Lincoln you are guaranteed a no pressure car buying experience. We will always give you top dollar for your trade in vehicle and our prices are listed right on our website. Additionally, we'll buy your car even if you don't buy one from us!
Not only do we offer you a great car buying experience, but we'll continue to take care of you even after the sale! We offer a wide variety of services from our Quick Lane, for routine tune ups, to our Parts and Service Department, that can fix any problem or upgrade any trim or accessory.  We even partner with Gerber Collision and Glass, an onsite body shop and collision center, if you run into trouble on the road.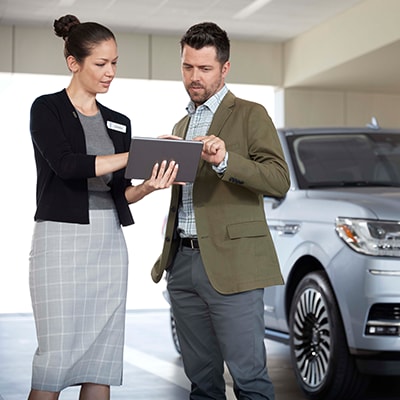 Guaranteed Quality
When you shop at LaFayette® Lincoln, we want you to know you will be working with trustworthy individuals. We value the feedback we receive from actual customer reviews and have even been recognized by CARFAX as a Top-Rated Dealer for 2019 and 2021. This award is based on verified reviews from actual customers and means we received an average of 4.6 stars out of five and that we show a commitment to building consumer confidence through exceptional service and customer care!
We are a full disclosure dealership and want to make sure you know and understand everything about our vehicles. We offer lots of great incentives, especially on our new vehicles! 
When it comes to purchasing a pre-owned vehicle, if we wouldn't buy it, we won't sell it! Complimentary CARFAX reports are available for all of our pre-owned vehicles and each vehicle is thoroughly inspected by our factory-trained service technicians before being put on our lot. We even replace worn parts and will walk you through all the services we performed!
Our Lincoln Certified Pre-Owned vehicles come with great benefits on top of the one's you are already getting by shopping with LaFayette® Lincoln. Lincoln Certified Pre-Owned vehicles come with a Comprehensive Limited Warranty, Powertrain Limited Warranty, complimentary roadside assistance for the first year, and so much more!  To learn more about Lincoln Certified Pre-Owned vehicles, click here.
Local Roots
Seventy years is not a small amount of time, especially when it comes to being in business! We have learned a thing or two over the years but have never sacrificed our principles to keep up with changing times. We believe our success is rooted in our customers and our community, or what we like to call our LaFayette® family.
"If you look after the community, then the community will look after you. That's the idea we've tried to instill here over the years," says Mark Fisher, President of LaFayette® Lincoln. "It's not all about selling cars. You have to be visible and involved and recognize the needs of the community." We are proud to be an integral part of this community and enjoy being able to give back to projects we are passionate about like our military and local school system. To learn more about our community involvement, click here.
We staff over 100 local employees each dedicated to providing you the best customer service experience possible. We may not be a big corporation with multiple locations like some car dealerships out there, but we take pride in our Fayetteville, NC dealership and guarantee you'll be treated like family from the moment you walk through our doors.